Artist Story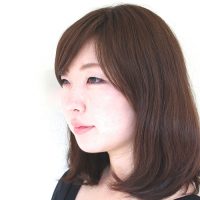 I apply England's 19th century "Mochaware" method to my works.
Mochaware is originally applied after the clay is covered with engobe, but I replace the material with kaolin as my original. The method I use is cast molding using mainly plaster mold.
I pour kaolin clay into plaster mold, drain when thickened, immediately drip paint dissolved with a liquid "Mocha Tea" using a brush, and apply patterns to the clay. The paint doesn't spread after the clay dries, so I concentrate hard for the next minute when applying patterns. By using 3 to 4 base colors, the watercolor-like gradation color melts and blends in with the translucent kaolin.

I mainly use plants (flowers) and butterflies for my themes and motifs.
I started with a series of applying colorful Mochaware on white porcelain, and then used black or gray clay to inlay paint to the Mochaware patterns, and am now recently making juicy series by cutting out chunks of clay rather than casting.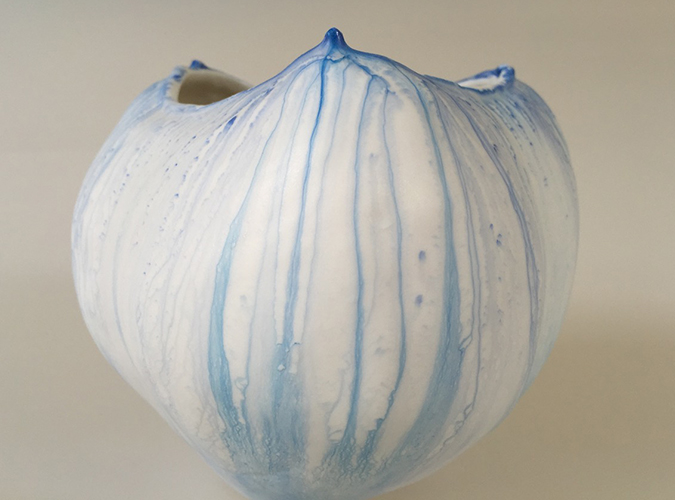 Works-1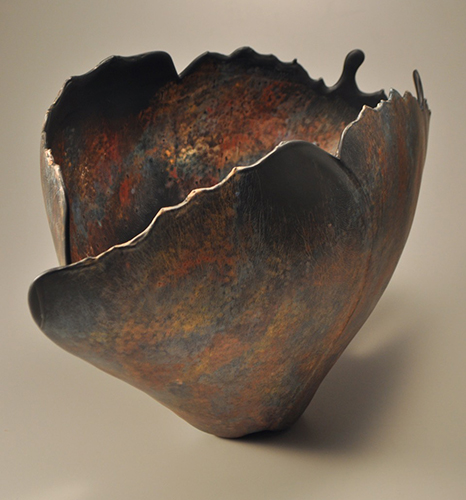 Works-2
I was born in Azumino, Nagano, and having been surrounded by nature since my childhood, I liked to draw pictures of plants and scenery. I studied oil painting and went to an art university, but I immediately changed courses to ceramics after being fascinated by ceramics in a trial class. I originally liked painting plants on objects, but in order to find an original method, I entered Tajimi City Pottery Design And Technical Center located in the origin of Mino pottery, and came across Mochaware.
I studied a mass production method of cast molding at the Center, so I succeeded in applying Mochaware on porcelain.

However, to the eyes of other pottery artists, my molding method seems to be full of taboos. My cast molding method is especially a bit unreasonable, and it forms shape after a lot of failures.

I believe, however, this is the result of my taking advantage of the limitations when changing materials, which gave new expressions and originalities to my artworks.
I have an ever lasting longing for the many beautiful and colorful animals and plants in nature. I wish to continue making artworks expressing them through Mochaware phenomenons.

I think humans are sensitive to colors. My works all have unique patterns, and I hope I can provide people with sorrow, peace or joy with the random colors and shapes appearing through my control.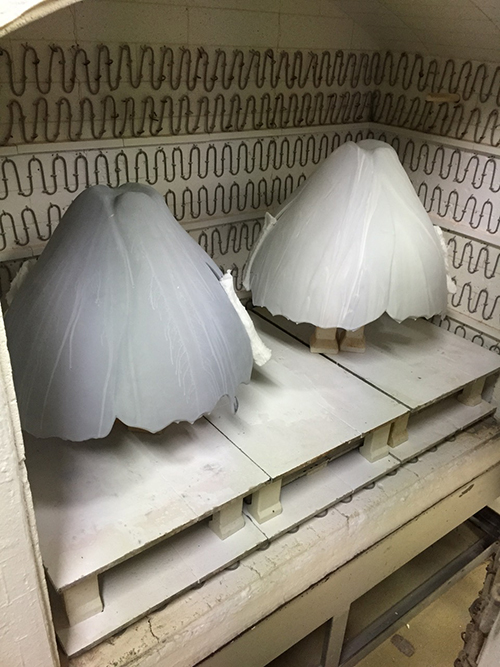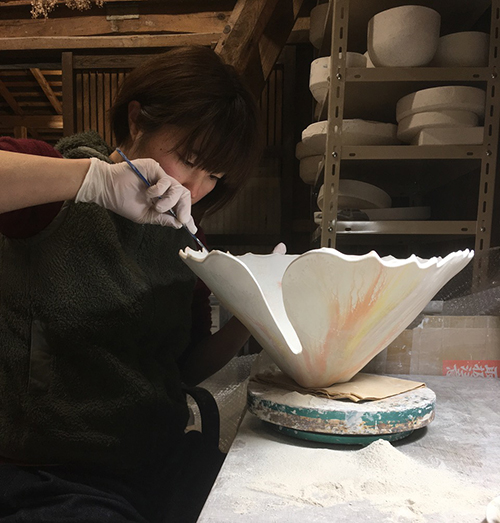 From the owner
The advanced techniques and beautiful completions of Ms. Katase's artworks are fascinating. Every pattern of dye dissolving in clay is subtly different. I believe the attraction to ceramics is to feel the interaction between the artist and clay. Having created a unique worldview through this Mochaware, Ms. Katase has another challenge in mind, and she is sure to continue evolving further.
ArtShop Tsukibae Owner,
Mayumi Miyanaga
Yumiko Katase - Artworks
Artist Story - Top